Veritas Technologies resonates with a legacy of innovation, dating back to its inception as Tolerant Systems in 1983. Its evolution into a global giant specializing in storage management software vividly illustrates its trailblazing ethos. A pivotal chapter in this evolution was scripted in 2014 with the acquisition by The Carlyle Group, following a decade-long affiliation with Symantec since 2004. A shining feather in Veritas's illustrious cap is the recent conferment of the Veritas Gold Partnership upon SentryLabs.lk. This prestigious recognition not only encapsulates a hallmark of excellence but significantly, it amplifies the credibility and the superior caliber of Veritas's data management solutions through the lens of SentryLabs' expertise. The Gold Partnership heralds an era of enhanced cybersecurity and data management, a synergy that promises to significantly bolster the security landscape, especially for Sri Lankan organizations which SentryLabs fervently serves.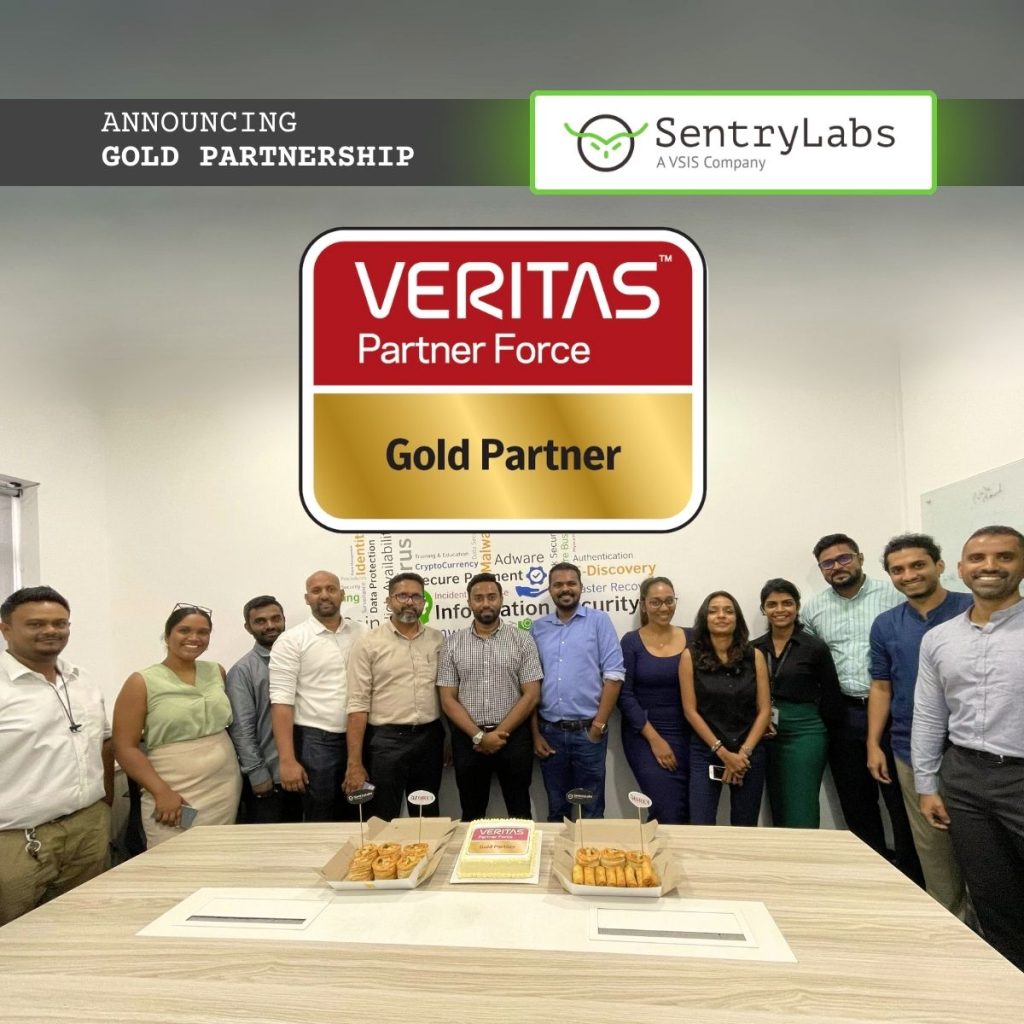 Core Competencies of Veritas
Veritas stands tall with its comprehensive suite of solutions designed to tackle the challenges of enterprise data protection, performance, and cyber resiliency. The cornerstone of its data protection suite is the acclaimed NetBackup, dubbed as the #1 enterprise backup and recovery solution. Complementing NetBackup are Backup Exec and Backup Appliances, engineered for cost-effective data recovery and resilient data protection against ransomware, respectively​.
On the frontier of application resiliency, Veritas presents solutions like Enterprise Resiliency and Storage Resiliency, ensuring seamless operations even in the face of unforeseen adversities. These offerings are geared towards maintaining high availability and performance of applications, thereby minimizing downtime and ensuring business continuity.
Venturing into the domain of data compliance and governance, Veritas unveils a gamut of solutions encompassing data capture, classification, archiving, surveillance, and eDiscovery. Among these, the Enterprise Vault stands out for its automated data capture and information archiving capabilities, while the eDiscovery Platform excels in facilitating digital forensics, investigations, and document review. The Merge1 platform, another gem in Veritas's crown, embarks on partnerships in data archival excellence, underpinning the importance of compliant data management practices​​.
These competencies of Veritas collectively orchestrate a symphony of secure, resilient, and compliant data management practices. They resonate with the needs of global enterprises, academic institutions, and government organizations, encapsulating a holistic approach toward unified data services. Veritas's extensive technology ecosystem, trusted by many of the world's largest companies, is a manifestation of its relentless pursuit of data management excellence​​.
This section provides just a glimpse into the extensive capabilities of Veritas. As we delve deeper into real-world applications and user testimonials in the ensuing sections, the pivotal role of Veritas in steering the helm of enterprise data management will unravel further.
Veritas in Action: Real-world Applications
Veritas Technologies is not just about theoretical solutions but its real-world applications have been impactful across different sectors. The customer success stories on the official Veritas website are a testament to its robust data management solutions​. Other case studies from different sources echo the same sentiment, showcasing how Veritas has been instrumental in aiding various organizations to manage their data effectively.
For instance, a case study detailed by Q-SYS illustrates the digital transformation of the Veritas Southeast Asian headquarters, showcasing how Veritas solutions facilitated software-based automation and design for divisible rooms, keeping hardware at a minimum while still delivering quality, integrated controls​​.
In another case, Veritas partnered with Camara Education, a charity delivering digital education to disadvantaged communities, and provided data management solutions to guide enterprise customers through disruptive technology shifts over the past 30 years​​.
Furthermore, a platform dedicated to B2B business software & services case studies lists numerous examples of how different organizations leverage Veritas Technologies for managing and protecting their data, showcasing the breadth and versatility of Veritas solutions across various industries​​.
These real-world applications underscore the versatility and efficacy of Veritas's solutions across diverse operational environments. They echo the sentiments of countless satisfied customers who vouch for Veritas's commitment to delivering unparalleled data management solutions.
Veritas Subscription and Licensing
Veritas's subscription program is an initiative aimed at offering flexible licensing models to its users. Through this program, users can access a range of Veritas solutions under a subscription model, which not only simplifies the licensing process but also renders it cost-effective. The transition to a subscription-based model is a reflection of Veritas's adaptability to contemporary market dynamics and customer preferences​​.
Moreover, Veritas provides a clear framework for licensing, especially elucidated in its Usage Insights for NetBackup. This framework helps users understand the licensing requirements for various Veritas solutions, ensuring transparency and compliance. The licensing models are designed to cater to different organizational needs, be it a large enterprise or a small to medium-sized business​​.
The subscription and licensing models underscore Veritas's commitment to delivering value while ensuring compliance and transparency. It's a win-win scenario where organizations can leverage top-notch data management solutions while adhering to licensing protocols, thus fostering a conducive environment for data-driven operations.
Training and Support
Veritas is committed to ensuring that its users are well-equipped to maximize the benefits of its solutions. A plethora of training resources are available to facilitate user education and skills development. These resources encompass a range of topics including how to effectively deploy and manage Veritas solutions, and how to troubleshoot common issues. The training programs are designed to cater to different learning preferences and skill levels, ensuring a productive learning experience for all users.
SentryLabs, with its focus on cybersecurity, augments the Veritas support framework by bringing to the table its expertise in secure communication, vulnerability assessment, and cybersecurity consultancy​. The Veritas Gold Partnership with SentryLabs is not just a validation of SentryLabs' competency but also a gateway to enhanced support and services for Veritas users in Sri Lanka. This partnership underscores the symbiotic relationship between Veritas and SentryLabs, each amplifying the other's strengths to deliver superior data management and cybersecurity solutions.
Future Horizon: Veritas and Cloud Integration
Veritas has been at the forefront of adapting to the evolving data management landscape, particularly in the realm of cloud integration. Its solutions are engineered to provide seamless data protection and management across on-premises and cloud environments. This cloud readiness is crucial in today's digital age where cloud infrastructures are becoming a norm rather than an exception.
The synergy between Veritas and SentryLabs further fortifies the cloud data management capabilities. SentryLabs, with its extensive experience in designing and implementing cybersecurity strategies, complements Veritas's cloud solutions by ensuring that the migration and management of data on cloud platforms are secure and compliant​2​. This collaborative approach not only facilitates smooth cloud transitions for organizations but also establishes a robust framework for secure cloud data management.
F&Q
Q1: What does the Veritas subscription program entail? The Veritas subscription program offers a flexible licensing model, allowing users to access various Veritas solutions under a simplified and cost-effective subscription model​1​.
Q2: How does Veritas ensure application resiliency? Veritas provides solutions like Enterprise Resiliency and Storage Resiliency to maintain high availability and performance of applications, minimizing downtime and ensuring business continuity.
Q3: What support and training resources are available for Veritas users? Veritas offers extensive training and support resources to aid users in deploying, managing, and troubleshooting Veritas solutions.
Q4: How does the partnership between Veritas and SentryLabs enhance cybersecurity? The partnership augments Veritas's data management solutions with SentryLabs' cybersecurity expertise, providing an enhanced framework for secure data management and communication
Q5: What is SentryLabs and when was it established? SentryLabs was formed in 2021 as a cybersecurity company under the prestigious VS Information Systems Group of Companies, aiming to provide cutting-edge security solutions and consultancies to ensure safe and secure operations for Sri Lankan organizations​​.
Q6: Who are the professionals behind SentryLabs? The cybersecurity team at SentryLabs comprises highly trained and specialized engineers, specialists, and professionals guided by industry veterans with extensive experience in cybersecurity and privacy solutions across various industries​​.
Q7: How can SentryLabs help in reducing network blind spots? SentryLabs provides innovative tools and techniques to identify trends and threats, enabling immediate response to potential cybersecurity threats to your network and organization. This approach helps in reducing network blind spots and achieving comprehensive network visibility​
Q8: What solutions are offered under Security Operations and Monitoring? The solutions include Security Incident and Event Management, Event and Log Management, Security Orchestration Automation and Response, Network Anomaly Detection and Response, and Security Policy Management​2​.